Club Car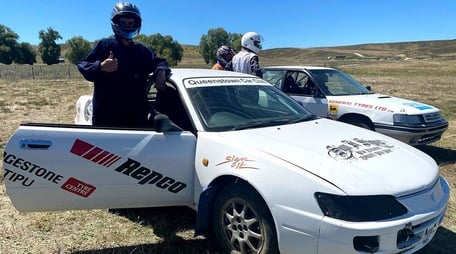 Queenstown Car Club has a club car suitable for those wanting to give motorsport a go without investing in a car. This car is ready to run at track days, motorkhanas and autocrosses.
Description: Toyota Levin with roll cage, seats and four point harness. All safety gear can be provided. The Club Car is not road legal but the car is mounted with an A frame for towing behind any vehicle with a tow bar.
The car can be reserved for an event (maximum of 3 drivers per event) by emailing the club at queenstowncarclub@gmail.com
You must be a member of the club to use this car. All bookings are at the discretion of the Club committee.
Responsibilities of the Club:
Ensure the car is ready to go and any due service items are completed.
Ensure the car meets Schedule A scrutineering standards.
Responsibilities of the Driver(s)
Organise transport to the event
Provide Fuel for the Car, must be returned with a full tank of fuel
Ensure appropriate tyres for the event have been fitted, can be done for you but fee applies and ample time needs to be given.
Pay the Usage Fee of $50 per event.
Check the car after each drive for damage etc.
Clean the car at completion of non-sealed events.
Repair any damage incurred during the event.